Get the Sweet Ass Habit Blaster!
Directions: Download the spreadsheet above, review the post, and watch the video below.
Two years ago, I was pounding handles of Jim Beam like water to numb my existence. Despite my $20k in debt, I was blowing my money on material bullshit, and constructing myself a path to a life of super-conformity. I was living by everyone else's rules.
Today, I am standing on a ledge overlooking a BEAUTIFUL city, debt-free, with an automated e-commerce business that keeps 6 people employed. There are no alarms that wake me up, and no bosses making sure I'm competing my "job" to their standards. I write A LOT. I hike and dance with nature as often as possible, and I often forget what day of the week it is. In addition, I just released a Sweet Ass Journal to help people build their own personal foundation for freedom, just as I have done.
There are many people, resources, and leaps of faith that contributed to my current situation, but despite the incredible energy that has been shared with me, I would have never made it this far without changing my approach to personal habits.
I was always the dude who set unrealistic new year's resolutions and then replaced them with a nice bottle of scotch a few days into the year. I would consider the nice scotch a win too, but it certainly wasn't a catalyst for moving me towards a life of freedom or independence. In reality, it was just helping band aid my unfulfilling lifestyle.
In the Sweet Ass Journal, I talk about how I made the transition to my current lifestyle by adopting the habits and strategies of 100+ successful entrepreneurs. I also provide a 100-day trackable journaling system, which includes 10 different simple, daily habits you can implement to strengthen your approach to a life of excitement and blissful exploration.
I've had people from all over the world send me testimonials and messages about how much the system is changing their life in a simple, fun, and effective way. I've never experienced a high like I get when I know I've been able to help someone work towards a better life. Money, drugs, booze, and even extreme sports don't get close to comparing.  And to think I almost trashed the whole project because of a lack of confidence… 🙂
The journal is the baseline system that I still use to manage my personal foundation for freedom, but it's not the only system that helps me sharpen my habit muscles.
I soon found I need to be reminded of my habits throughout the day. Constantly opening and closing my journal or just doing the usual morning and evening check in was not enough to keep me on track. I needed something that I could quickly glance at as a reminder.
Many of you can probably remember what you write down as your main focus for the day, but for me… It's more challenging. I must visually see it, all day, until the action is accomplished. Otherwise, my attention wanders off down rabbit holes of YouTube music videos, future camping plans, or easier side projects of less importance.
In the bonus material that comes with the Sweet Ass Journal, we added a beautiful 100-day checklist grid that you can print and hang on your wall as a reminder to check off the journal completion that day. Personally, I've taken this style of practice a little further and created a 100-day tracking system that breaks down the personal habits I am working towards.
For some of you, it may come off way overwhelming… And you might immediately power off the computer and run to the bar.
That's okay, I get it, but you should at least give it a try. It's not as overwhelming as it may look.
For others like me, it may make your pee-pee and nipples hard. You might find it sexy and just the tool you need to keep yourself accountable.
I'd be honored to have you make sweet love to my 100-day Sweet Ass Habit Blaster tracking system.
Watch the video below and I'll show you how it's done.
Get the Sweet Ass Habit Blaster!
Simple Execution:
Watch the video.
Enter the habits you are working towards.
Print it out (make sure it's fitting to your page before you print).
Slap it on your wall.
Each morning, review the habits you are working towards, and initial in each check-in box.
Each night, initial in each check-out box and update the % of the 100 days you have completed.
If you aim to complete 80% of the days over the 100 day period, you will be blown away with how much it will change your life. By the end of the 100 days, you'll be one with your new habits, and then you'll be able to add new ones and keep expanding.
Let me know if you have any questions in the comments section below, and I'd love to know what habits you are working on.  Feel free to tweak your spreadsheets to your liking, you don't have to use my exact system! It's just a framework, and I hope it helps you!
Cheerios!
Interested in more goal hacking spreadsheets? Check out the Debt Gremlin Destroyer Spreadsheet!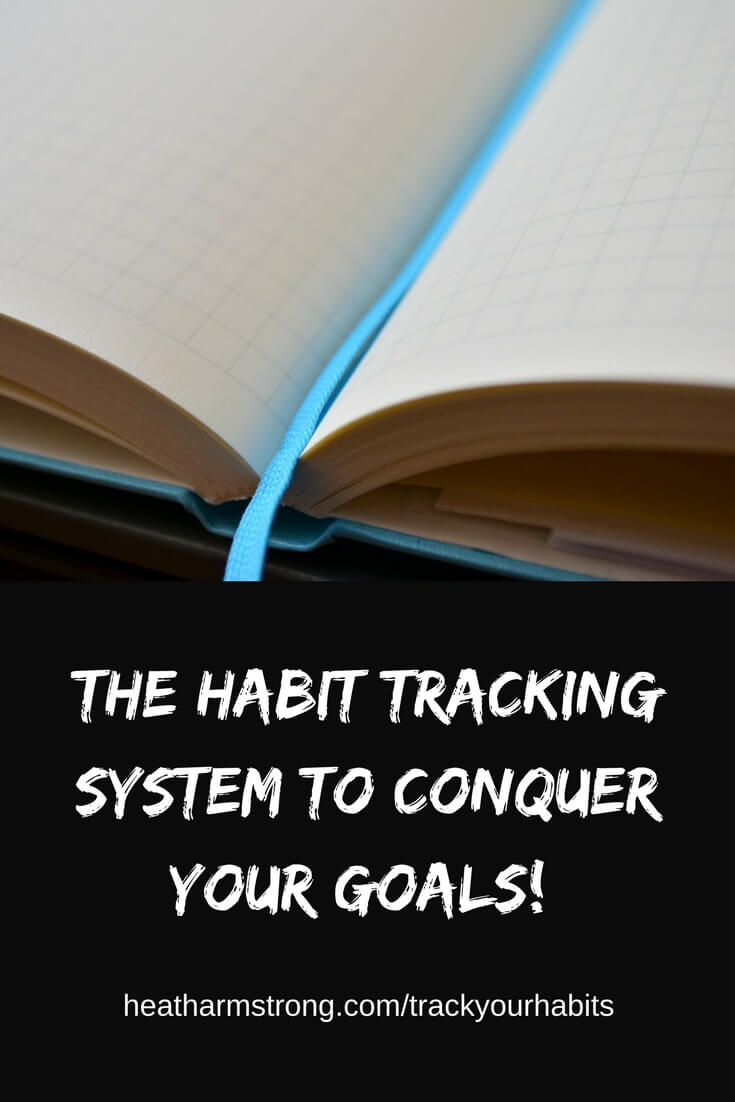 http://heatharmstrong.com/wp-content/uploads/2017/04/LOGO-1-1.png
0
0
Heath
http://heatharmstrong.com/wp-content/uploads/2017/04/LOGO-1-1.png
Heath
2017-07-06 09:55:14
2017-11-17 17:01:27
How to Set, Track, and Accomplish Multiple Habits Over 100 Days